Adjustable Steps2 Learning™ tower - White and Varnish
Regular price
$169.95 USD
Regular price
$199.95 USD
Sale price
$169.95 USD
Unit price
per
Sale
Sold out
Product Highlights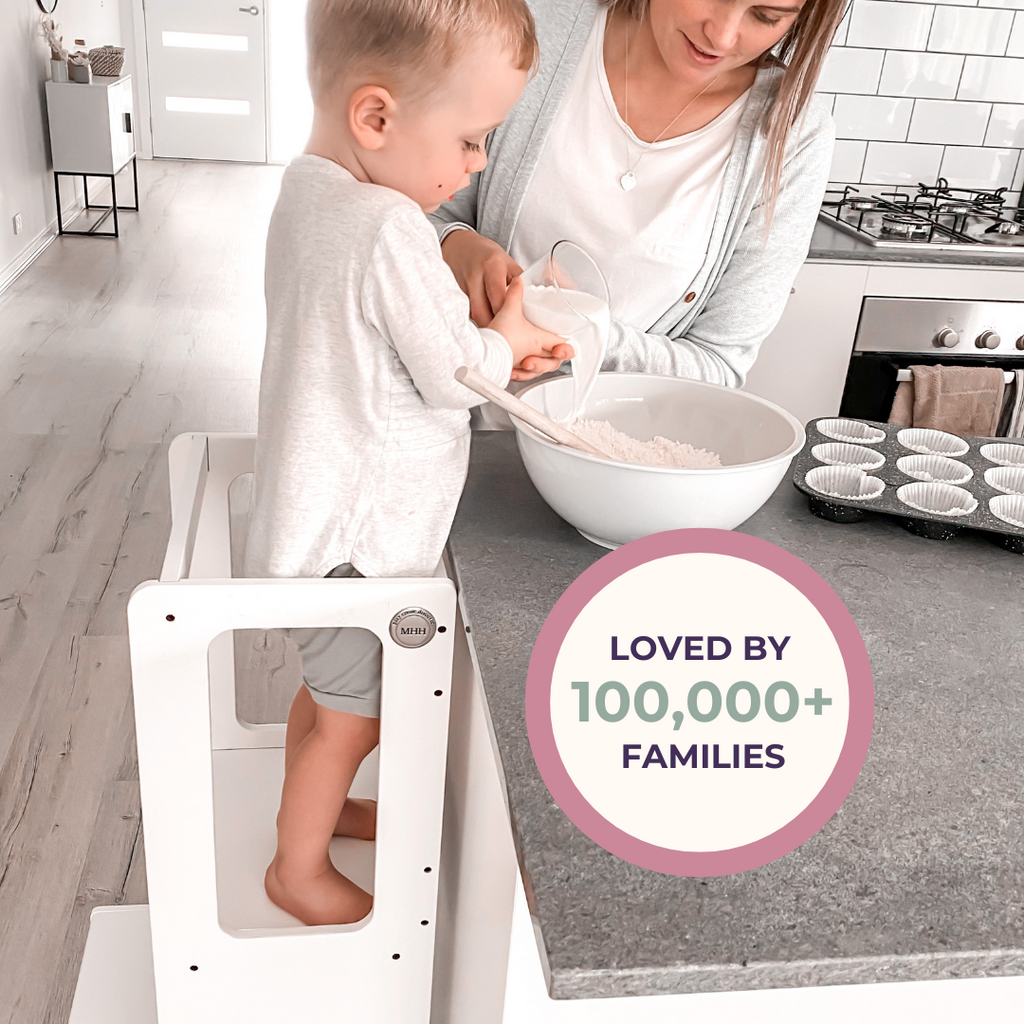 Loved in 100,000+ homes globally
Thousands of 5* Reviews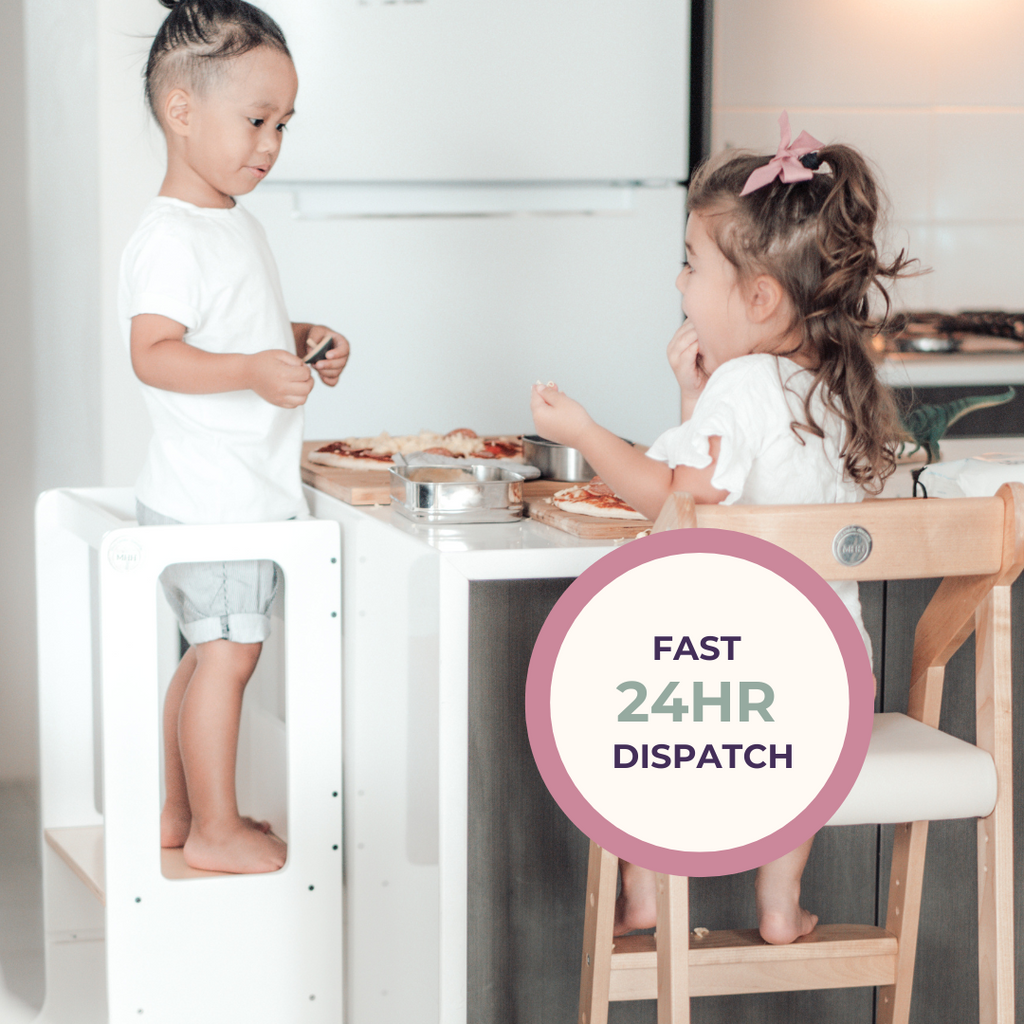 Fast Shipping from California
Join the Steps2 Learning™ tower revolution
Description

Introducing My Happy Helpers® Steps2 Learning™ Tower: The Perfect Kitchen Buddy for Your Little Ones!

Are you on the lookout for a fantastic way to bond and create beautiful memories with your little ones in the kitchen? Look no further! The My Happy Helpers® Steps2 Learning™ Tower is here to make cooking and baking super fun for both you and your little ones.

Crafted with Love and Safety in Mind: Our tower is meticulously constructed using premium European A Grade Birch Plywood, ensuring unparalleled quality and utmost safety for your precious little ones. We have gone above and beyond to guarantee the safety of your child by subjecting our tower to the most stringent European, Australian, and US Chemical and Stability tests. You can rest assured that our products do not contain harmful levels of heavy metals, and we never compromise on quality by using inferior materials like paper overlay or MDF.

Slimline Design: Beauty and Practicality Combined: Our tower boasts a design patented slimline profile, seamlessly blending into any kitchen or living space. Not only is it highly functional, but it also adds an elegant touch to your home environment.

The My Happy Helpers® Steps2 Learning™ Tower is the perfect kitchen companion for American Families. It offers a remarkable design, unwavering commitment to safety, and an emphasis on your child's enjoyment. Join us on this delightful journey of learning and togetherness in the kitchen. We prioritize your child's safety, comfort, and happiness above all else, and we are excited to bring the enchantment of our Steps2 Learning™ Tower into your lives.

At My Happy Helpers® we pride ourselves on producing safe and functional designs that comply with relevant Mandatory and Voluntary Safety Standards see here for further information.
Features

Includes 4 optional side stabilising feet

Weight limit tested to 220lbs


35.4''

 (H) x 16'' (W) x 16'' (D)

Each Tower weighs approximately 15.5lbs




3 easily adjustable step heights

Additional removable safety bar - Should be removed when your child is around 3 feet or taller.

Optional Magnetic Whiteboard Attachment
Specifications 

Size and Age Recommendation: The Steps2 Learning™ Tower measures 35.4" (H) x 16'' (W) x 16'' (D), making it suitable for various kitchen and bathroom spaces. We recommend this tower for children aged 12 months and above or, suitable to be introduced once your toddler is competently standing on his / her own feet. Adult supervision is required at all times and arms length supervision is imperative.  


Safety Precautions and Additional Notes: We want to ensure that you have all the necessary information to make an informed decision. Prior to purchase, we urge you to read the  Safety and Warranty Information provided. It contains essential safety precautions and additional notes to ensure the optimal use of our tower.

Your Child's Posture and Safety: While using the STeps2 Learning™ Tower, it is crucial to keep a close eye on your child's posture. If their hips rise above the top of the tower, it's time to adjust the step height to prevent any accidents. We prioritize your child's safety and want you to have complete peace of mind as they explore the world around them.

Important Information: Please Read Before Purchase:

Water Exposure Precautions: To ensure the longevity of your tower, avoid exposing it to water or leaving it in standing water. If water is accidentally spilled onto the tower, promptly wipe it dry. Please note that damage caused by water or water exposure is not covered under warranty.

Natural Characteristics of Birch Plywood: Birch Plywood may exhibit a slight "pinhole" effect on the edges of the board. This is a natural characteristic of using natural timbers and should not be considered a defect. We encourage you to appreciate the uniqueness of each Tower, embracing its natural beauty.

Aesthetic Variation in Internal Grooves: The internal grooves in the plywood, where the steps slide in, may have a different finish compared to the rest of the tower. This is not a manufacturing fault but rather an aesthetic variation. We appreciate these distinct features that highlight the natural charm of timber.

Recommended Cleaning Methods: For regular cleaning, please use a damp cloth without any chemicals. Avoid using soapy water or baby wipes as they contain chemicals and alcohol that may adversely affect the timber and paintwork.

We want to ensure that you have the best experience with your Adjustable Steps2 Learning™ Tower. By following these guidelines, you can maintain its quality and preserve its unique characteristics for years to come.
Our in stock products are usually dispatched from our USA Warehouses within 24-48 hours.

Pre Orders are dispatched within 24-48 hours of the stock arriving at our USA Warehouses.
Safety Information/Product PDFs
Product Highlights
4 Removable Stabilising Feet

Additional Removable Safety Bar

Certified Non Toxic Paints & Varnishes.

Three Adjustable Step Heights
Focused on Functional Design:
The My Happy Helpers Adjustable Towers have captivated parents & children alike. Our innovative range is meticulously designed to provide a safe & enjoyable learning experience for your little one, empowering them to explore their world independently.
Independent Safety Testing:
When it comes to your child's safety, the My Happy Helpers Adjustable Towers leave no room for compromise. Engineered with a focus on stability, our towers feature a robust construction that ensures your child can explore and learn with confidence. The sturdy base and secure side feet provide a stable foundation, preventing any wobbling or tipping.
By selecting a My Happy Helpers Tower, you can ensure a safe, enjoyable, and enriching experience for your child during meal preparation, kitchen activities, and beyond. Invest in a My Happy Helpers Tower and witness your child's independence, confidence, and joy thrive.
Why My Happy Helpers Towers
Thousands of Satisfied Customers:
Don't just take our word for it! The MHH Adjustable Towers have received rave reviews from thousands of satisfied customers worldwide. Parents have witnessed firsthand the positive impact our towers have had on their child's development, making them a trusted choice for families everywhere.
Our customer reviews are a testament to the long-lasting impact our Adjustable Towers have on their little one's development. Parents have shared stories of their little ones eagerly exploring new heights, using the towers as a platform to engage in imaginative play, assist with meal preparation, or delving into artistic endeavors.
Our tower will become such an integral part of your child's daily routine, enhancing their motor skills, cognitive abilities, and overall growth, that you'll wonder how you ever survived without one.
Amazing tool! The best quality
You need to buy one!! I can do more activities with my baby
Great investment
Great investment, highly recommend! Purchased for my 14 month old and we use this every single day and I can see that it will continue to be used every day for atleast a couple more years so well worth it! Nice quality, quick and easy enough to assemble too.
Customer Photos
Cooking with the Thermomix