My Happy Helpers Convertible Steps2 Tower: The Perfect Dual-Purpose Solution for Your Toddler's Safety and Mealtime Fun
Experience the ultimate convenience and versatility with our Convertible Steps2 Tower. Designed to adapt to your growing child's needs, this innovative piece of furniture seamlessly transforms from a Toddler Tower to a functional and attractive Kids Table and Chair. Whether you have limited space or simply value multifunctional furniture, our Convertible Toddler Tower is the ideal choice for modern families.
Read More
Dual-Purpose Brilliance: Toddler Tower to Toddler Table and Chair
With our Convertible Steps2 tower, you get the best of both worlds. It starts as a secure and sturdy Toddler Tower, providing a safe platform for your little one to engage with you in the kitchen. The tower allows your child to comfortably reach the countertop, fostering independence and a sense of accomplishment. But that's not all! When mealtime or creative activities roll around, simply transform the Toddler Tower into a perfectly sized toddler table and chair set. It's the ultimate space-saving solution that seamlessly transitions from one function to another.
Crafted with Quality and Safety in Mind
We believe in providing the best for your child, which is why our Convertible Steps2 Tower is crafted from high-quality European Birch Plywood. This durable material ensures long-lasting performance and stability. To ensure your child's safety, we've carefully sealed the tower with non-toxic paints and varnishes, keeping harmful substances at bay. You can have peace of mind knowing that your child is using a safe and environmentally friendly piece of furniture.
Be part of the growing community of parents who have revolutionized their mealtime experience with our amazing toddler convertible tower.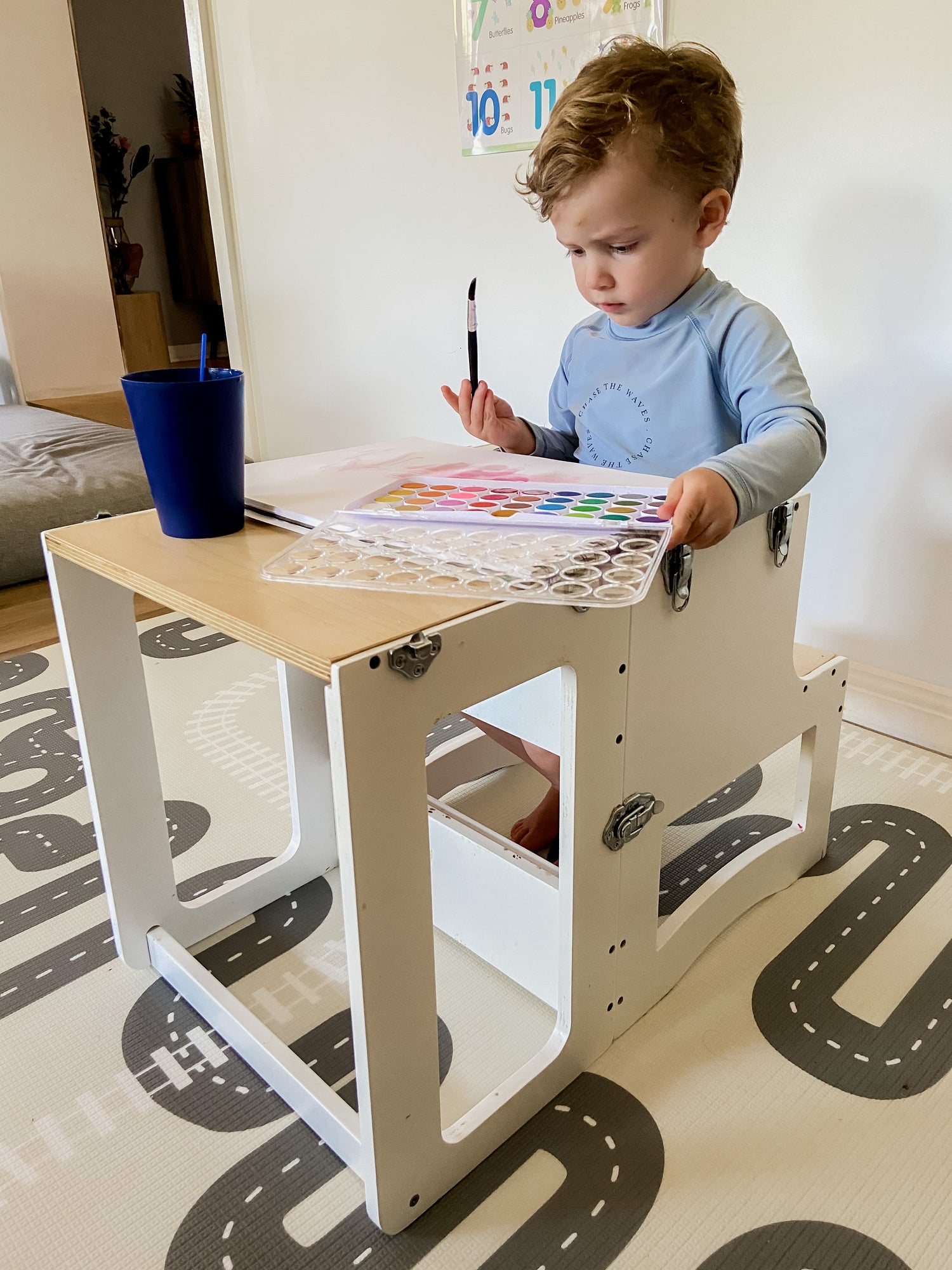 Unlock the Potential of the My Happy Helpers Convertible Toddler Tower
Experience the remarkable versatility and functionality of our Convertible Toddler Tower. It's the perfect solution for parents who value safety, practicality, and dual-purpose furniture. Elevate your child's learning and mealtimes with this beautifully designed and original piece. Crafted from high-quality European Birch Plywood and sealed with non-toxic paints and varnishes, our Convertible Toddler Tower simplifies your life while creating a safe and enjoyable environment for your toddler. Invest in their development and get the most out of your space with the My Happy Helpers Convertible Toddler Tower.
Practicality for Modern Living
Living in a small space doesn't mean compromising on functionality. Our Convertible Toddler Tower is designed with your unique needs in mind. It offers a space-saving solution that eliminates the need for multiple pieces of furniture. By seamlessly transforming from a Toddler Tower to a toddler table and chair set, you'll optimize your living space without sacrificing style or practicality. It's the perfect addition to any modern home, where every inch counts.
Let customers speak for us