Shop Our Collection of Foldable Toddler Towers: The Ultimate Space-Saving Solution for Modern Homes.
Are you a busy mom who loves cooking with your little one but is short on space? Look no further! The My Happy Helpers Foldable Toddler Tower is the perfect solution to involve your toddler in meal prep while maximizing your kitchen space. With its innovative design and numerous benefits, this tower is a long-term investment that will bring endless joy and valuable learning experiences to your family.
with the added convenience of being fully assembled on arrival and foldable when not in use.
Read More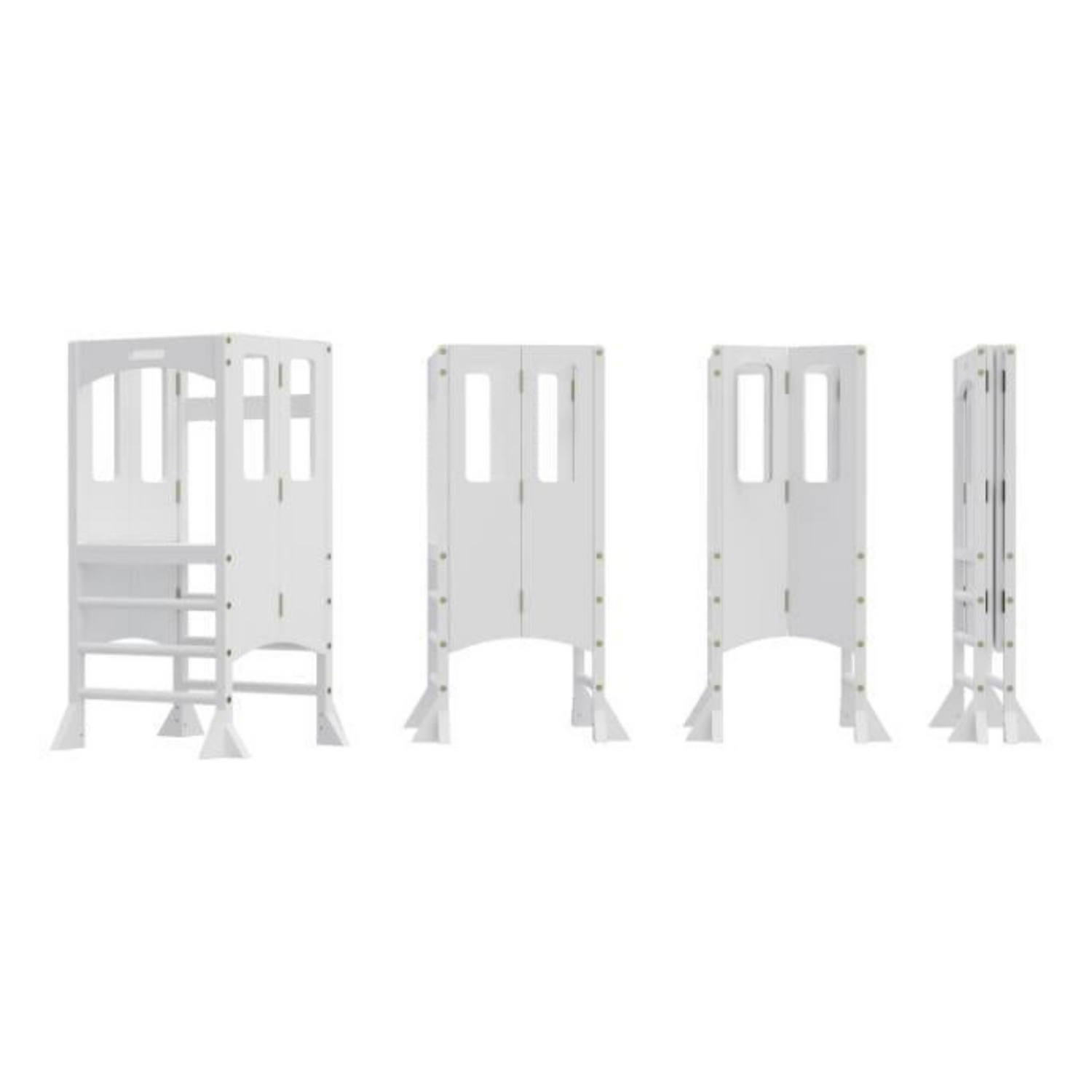 Compact and Practical:
Space Saving Design: The Bi Fold Tower is designed with small spaces in mind. Its unique folding mechanism allows it to collapse flat when not in use, making it ideal for small homes, apartments, or anyone looking to maximize their space.
Easy to Use: With its pre-assembled design, the Bi Fold Tower is ready to use straight out of the box. No complicated setup required. Simply unfold it, and it's ready to provide a safe sturdy platform for your little one.
Versatile and Safe: Our Bi Fold Tower provides a secure environment for your child to explore and engage in various activities. It features a wide and stable base, adjustable heights, and safety rails for added peace of mind.
Whether your child is helping in the kitchen, playing, or simply observing, the Bi Fold Tower offers a supportive and empowering experience for your growing child.
Join the countless parents who have already transformed their mealtime experience with our innovative Foldable Toddler Tower.
Why Choose the My Happy Helpers Foldable Toddler Tower
Quality Craftsmanship:

Safety is paramount when it comes to our little ones. The My Happy Helpers Foldable Toddler Tower is built with premium materials and undergoes rigorous testing to ensure its durability and stability. Rest assured that your child will have a secure and safe platform from which to explore the culinary world.

Join the countless parents who have already transformed their mealtime experience with our innovative Folding Toddler Tower.
Space-Saving Foldable Design

The My Happy Helpers Foldable Tower is designed with the needs of busy moms in mind. Its clever foldable design allows for easy storage and efficient use of space, making it ideal for kitchens with limited square footage. Simply fold it away when not in use, and enjoy the freedom of a clutter-free kitchen.
Adjustable Heights for Growing Toddlers

The My Happy Helpers Bi Fold Tower grows with your child, providing a comfortable and supportive platform that adapts to their increasing height and capabilities, ensuring their ongoing engagement and safety in the kitchen. With multiple height positions, it can be customized to suit your toddler's needs at different stages of development.
Easy-to-Clean and Durable Materials

We understand that messes are an inevitable part of cooking with toddlers. That's why the My Happy Helpers Foldable Toddler Tower is designed with easy-to-clean materials. The sturdy and durable construction allows for quick wipe-downs, saving you time and effort in maintaining a clean and hygienic cooking environment.
Versatile Beyond the Kitchen

While the My Happy Helpers Foldable Tower is perfect for kitchen adventures, its versatility extends beyond cooking. It can also be used as a workstation for arts and crafts, or a place for your child to enjoy imaginative play. Investing in the Bi Fold tower means opening up a world of possibilities for your child's growth and development.
Transform Your Space with a Foldable Toddler Tower:
Experience the convenience and functionality of the Bi Fold Tower. Its folding design allows you to easily tuck it away when not needed, reclaiming precious floor space. Say goodbye to clutter and hello to a tidy and organized home.
Join the growing community of parents who have embraced the Bi Fold Tower as their go-to solution for creating a safe and engaging learning environment for their little ones.
Invest in the Bi Fold Tower and enjoy the perfect blend of functionality, space-saving design, and peace of mind.
Five ways to utilise a Folding Tower in toddler Meal Prep
Expand Their Palate with Food Exposures

Introducing your toddler to a variety of flavors and textures early on is crucial for their developing taste preferences. By involving them in meal prep, you can expose them to different ingredients, allowing them to explore, smell, touch, and taste new foods. The My Happy Helpers Foldable Tower elevates your toddler to the perfect height, enabling them to actively participate in the preparation process, fostering their curiosity and love for food.
Encourage Language Development

Meal prep time offers a wonderful opportunity for language development. As you and your little one work together, describe the ingredients, explain the steps, and engage in conversation about food. The My Happy Helpers Foldable Tower brings your toddler closer to the action, facilitating communication and vocabulary growth through meaningful interactions in the kitchen.
Develop Fine Motor Skills

Engaging in meal prep activities promotes the development of fine motor skills in toddlers. From stirring and pouring to slicing soft fruits, your child can refine their hand-eye coordination and dexterity. The My Happy Helpers Foldable Tower provides a secure and stable platform, allowing your toddler to safely practice their motor skills, empowering them to become more independent in the kitchen.
Cultivate Mathematical Concepts

Cooking involves various measurements, counting, and timing, offering an excellent opportunity to introduce basic mathematical concepts to your toddler. From counting ingredients to estimating cooking times, these interactions foster early math skills. With the My Happy Helpers range of towers, your child can actively participate in these culinary calculations, setting the foundation for their mathematical understanding.
Instill Healthy Eating Habits

By involving your toddler in meal prep, you create a positive association with healthy foods. As they actively participate in the cooking process, they become more invested in the final dish, increasing the likelihood of them trying and enjoying nutritious meals. The My Happy Helpers Tower enables your child to be part of the journey towards a healthier lifestyle, making it easier for them to adopt lifelong healthy eating habits.